Tell us a little bit about yourself! What's your background, and what do you do?
My name is Patricia Kalunda, I am 19 years old. I am Ugandan and I study law at the University of Kent, in Canterbury, UK. I am currently in my third year of my undergraduate degree
Is this your first time in Sweden?
Yes, it is. Sweden is the only other country in Europe besides the UK that I have been to. It's really exciting for me to have been given the opportunity to not only gain more knowledge and experience in the area of law that I want to specialise in which is environmental law but also get to see other parts of Europe.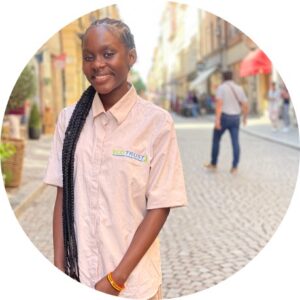 We're glad to have you here with us! How did you get in contact with ZeroMission?
I got to know about ZeroMission during the Plan Vivo stakeholders meeting that was held in Scotland, in 2022. Here, I got to meet Henrik Juhlin (CEO of ZeroMission) as well as other members of the staff at ZeroMission. This led me to want to get to know more about the organisation and how it operates. Specifically, I wanted to gain a deeper insight into the extent and the nature of the links between corporations and the environment.
What do you look forward to doing during your internship with us?
I am interested in learning about the fundamental principles of climate change, including the causes, impacts, and potential solutions. And other topics like greenhouse gas emissions. I am also interested in knowing more about sustainable development and how sustainable practices help in minimizing environmental impacts while supporting social and economic progress.
Also, I would like to learn more about the different policies, regulations and agreements in addressing climate change and environmental challenges. This will help me get a better understanding of the area of law that I would like to practice which is environmental law and company law
What would you like to do for a living in the future?
As previously mentioned, I would love to specialise in environmental and company law. I was inspired by my mother who is an environmentalist and I believe that to create a sustainable future, businesses need to take more responsibility for their environmental impact. By knowing both environmental and company law, I will be able to work better in the future to help in achieving this.