In the language of Bislama – a pigeon English spoken on Vanuatu – the vine merremia is known as Big Lif.  On our recent visit to Santo Espiritu we saw merremia from the road and in the forest.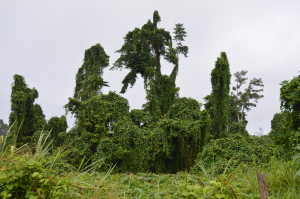 There are a good number of invasive species of both flora and fauna that are of concern on Vanuatu.
One of these is Merremia peltata, a vigorous creeping vine that strangles native trees. We were told by our guides that the plant had been introduced to the islands by the American army during World War II, to provide camouflage, and it's classified as "introduced invasive."
Merremia needs sunlight to take hold, which it can get on the edge of any forest or forest clearing. So wherever timber is removed from forested areas, even if the forest is not completely cleared, there's a risk that the merremia moves in.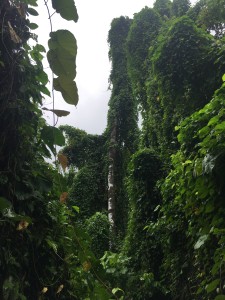 On first impression, the vine-covered areas looked exotic and lush but after a while my perspective changed to one of horror. The areas smothered with merremia look alien and the vine forms a thick blanket over the native trees, killing them slowly.
In the Loru Plan Vivo forest project on Vanuatu some smaller areas of merremia are being cleared, but it's a battle against time in a country with few resources.