Why did you choose to certify through Plan Vivo?
"We choose Plan Vivo because it matches our geographical area and is the standard that we feel is best suited for Carbon Management and Rural Livelihoods. The standard is also well known, and the personnel are helpful."
How important is it to have an understanding of different part of the value chain when speaking about carbon offsetting?
"I think it's really important to get businesses to understand what we do. That's why working with ZeroMission is so useful for us, they act as a catalyst on both ends, for projects and businesses. The UN has made it clear that big companies are going to have to offset using projects like ours, but they would never find or understand what we do if it wasn't for ZeroMission being a strong link in between. I feel like having this meeting ties up the loose ends for us, in fact they should happen a few times a year at least."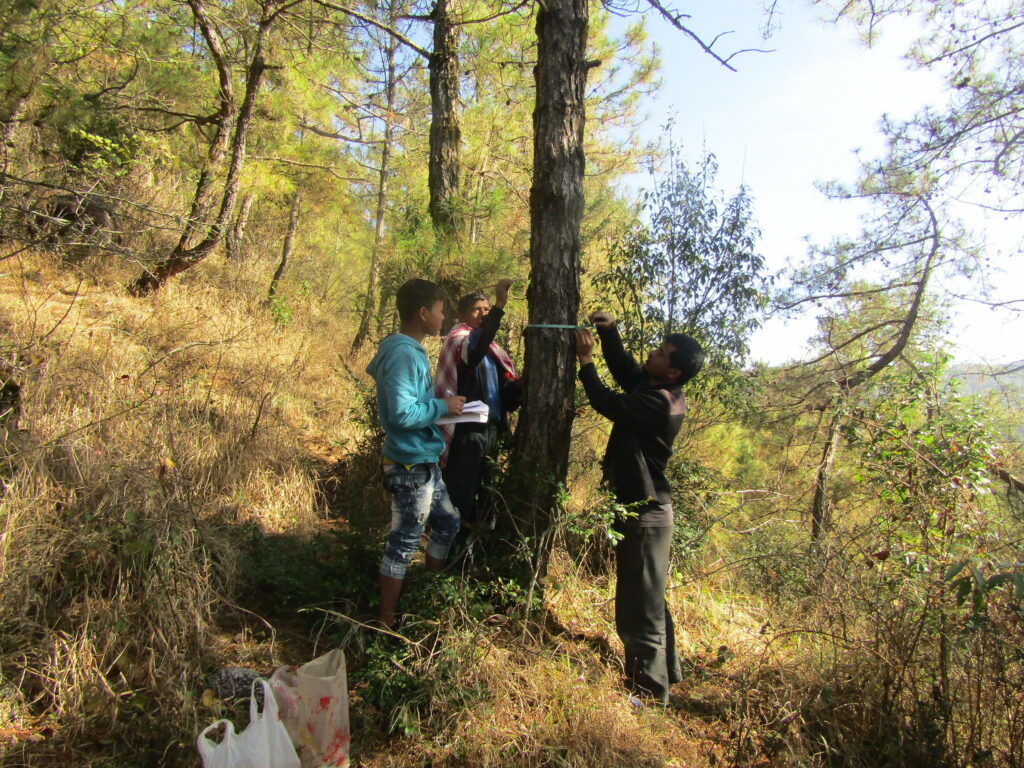 Project participants measuring tree growth to determine the amount of carbon stored. 
We've heard that you are called the son of the soil. What does that come from? 
"You heard it correctly, yes, this comes from people and organizations around who have been following me closely, since I was 17 years old. Being a Farmer's son and from a very poor family, I fight against all odds, first to be educated, then care for my own family and then the community.  
I started serving my community with sports clubs, so many different disciplines playing at high levels. Then I introduced rural tourism to Mawphlang, it got awards for tourism development in 1996, then recognised by the state in 2000. My first big achievement was the Black Top Road to the Farmland in 1999. I wrote the draft and read the first memorandum in front of 3000 people, in the midst of officers, ministers and the Chief Minister of the state. This is where my community service first got noticed and people started to have hope in me me and give me their trust.  
The next year I was elected the President of Mawphlang Village Council. Then in 2004, I started a Hima Mawphlang Network for the Revival of Sacred Grove and Community Forest. I created the Mawphlang Education Development Committee and started a library. Then, in 2009 we had a big success with the Mawphlang pilot project, and that is what became the REDD+ project in 2011. But these are just a few organisations I am part of, since 2015 I have worked with governments and universities at regional and national conferences. In 2018, I won the The Eastern Himalayan Award, I spent two days on a panel at the award ceremony and everybody came to know me as 'the son of the soil'."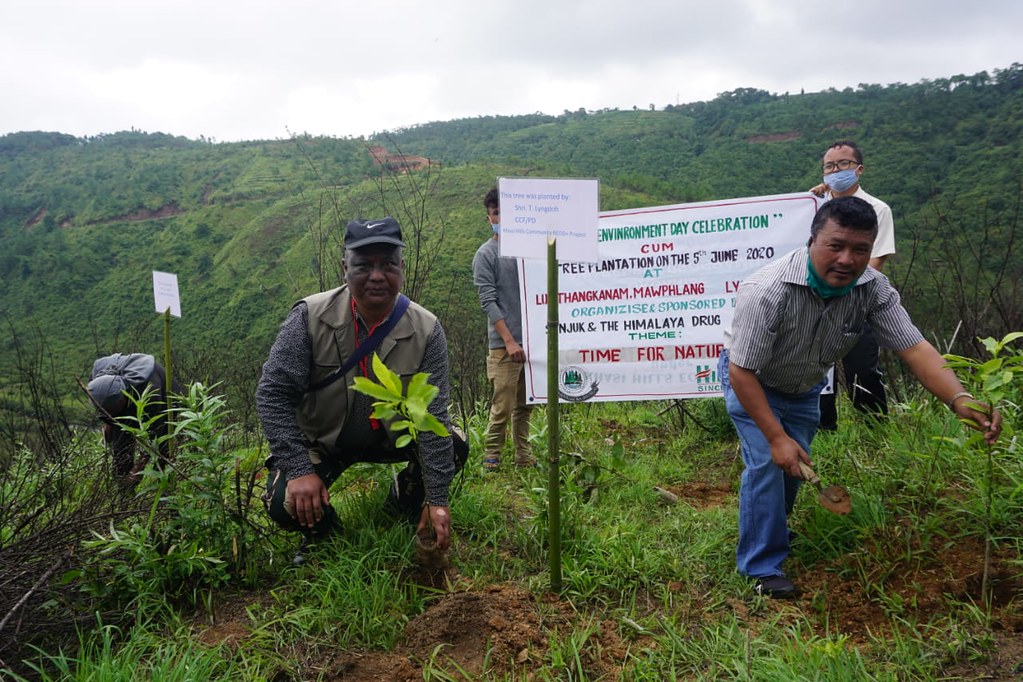 Tambor, on the left, participating in a project activity to plant trees.
Anything else you would like to share? 
"There is so much I would like to share, but we don't have that much time. One thing about the REDD+ approach that makes me very happy is that it is more than just a forest regeneration project. It helps with our socioeconomic activities and links with projects and schemes run by the government and other actors like Caring Friend Mumbai and The Himalaya Drug Company. Thanks to these, we are on our way to establishing an Eco-Village and we are working with Herbal Healers to document the local flora. 
We work with everyone in every village, our committees are 50% men, 50% women and we engage with the youth. Half of our qualified staff are local people from the villages who measure tree growth and teach others different techniques. This is why COVID didn't affect us that much really, because everyone was working locally anyway, we don't need people to be flying in, the project can run really well by itself."
What future plans do you have for the project? 
"We have received a lot of support with this project, we have worked really hard, and we are very happy to be a genuine certified REDD+ project. So many partners have bought credits with us, especially ZeroMission, and we're always getting visits by researchers and people asking when more credits are coming. We are looking to expand the project to the State of Meghalaya and into North Eastern states, both areas are governed like Khasi Hills."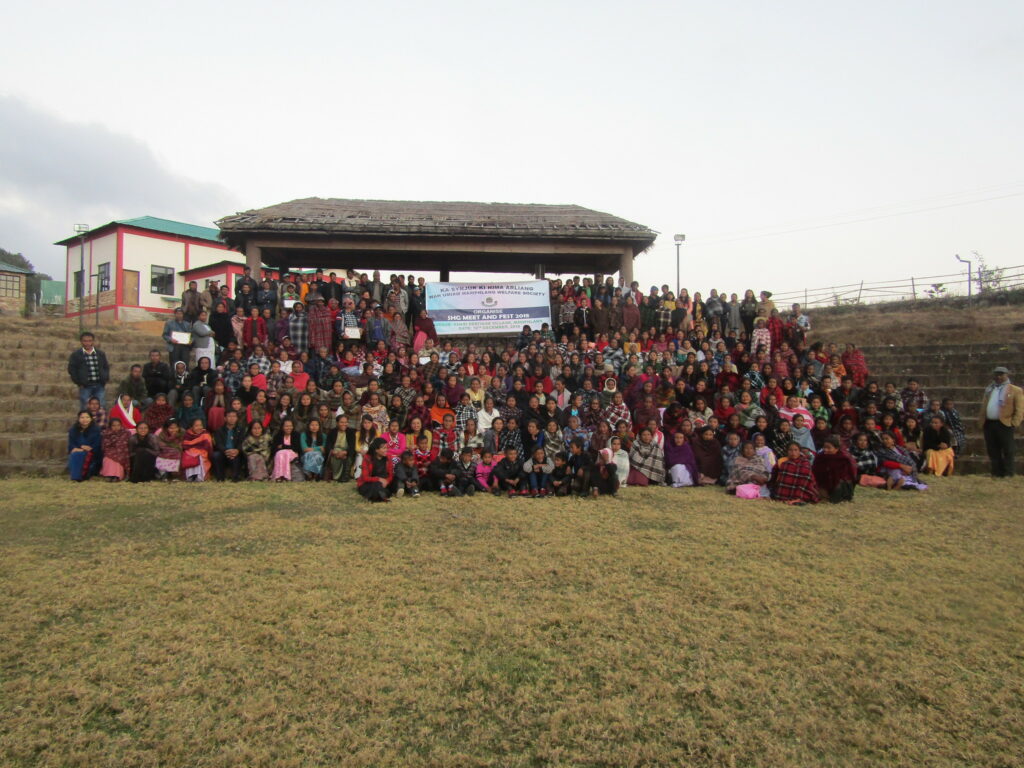 The Khasi Hills project involve people from over 60 villages. This photo is taken at a gathering in december 2018. 
About the Khasi Hills project
At the heart of the project are the local communities who manage the land, growing food, conserving biodiversity and sequestering carbon. Over the years, the project has faced some considerable challenges and utilised clever solutions to ensure the ecosystem remains protected. From droughts, to invasive species, to the effects of poverty and privatized land, the issues faced have required a whole host of different solutions.
The carbon credits sold by ZeroMission have helped this project overcome these problems through community training, creating alternative livelihood strategies and by creating strong social bonds between individuals and communities, known as social fencing. 
Watch a movie about the project here.