My colleague Julia Senninger of U&We reported earlier this week on Sweden's new climate law. The photo of Isabella Lövin signing the law, surrounded by female colleagues has been widely shared. Rightly so!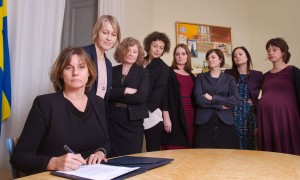 The law requires reduction of Sweden's net greenhouse gas emissions to zero by 2045 and a 70% reduction in emissions from domestic transport by 2030.  As
Julia
so aptly put it: "It's a big law. We've done big laws before, but this is great, really."
It's certainly "great" but I wondered if it's "best." Is Sweden "best" when it comes to climate change legislation today?

Here are a few examples for comparison: