Facebook
2018-09-27
Men vad händer här? Jo vi laddar inför Office Fair på Münchenbryggeriet! To be continued.
Läs mer
Twitter
2019-07-04
@olofborn @GroningLotta På @zeromission_ är vi tydligt med våra kunder: man ska inte klimatkompensera och försätter…
https://t.co/DOJLENdEB8
Läs mer
Pressmeddelande
- Vi har valt att arbeta med ZeroMission och att klimatkompensera via projekt som är Plan Vivo-certifierade för att vi vill vara säkra på att investeringen ger reell effekt på klimatet. Vår satsning på klimatkompensation ger både sociala och miljömässiga nyttor lokalt, samtidigt som vi vet att trädplantering och bevarande av regnskog stabiliserar jordens klimat, säger Emmy Tollin, hållbarhetsutvecklare på GodEl.
Läs mer
Arkiv efter skribent
Arkiv efter månad
2019-04-30
Emissions prices rising – good news!
The EU Emissions Trading System (ETS) has had a rough ride but at last the system appears to be working. In 2018 prices for emissions allowances rose and emissions from participating companies fell.
Established in 2005 the EU Emissions Trading System (ETS) is a cornerstone of European climate policy. The largest emitters have to buy allowances to cover their emissions and the total number of allowances issued is reduced each year. The companies participating typically emit at least 500 000 tons CO2e per year per site.
The system was first of its kind in the world in 2005 and unfortunately it hasn't always operated as intended.  For many years too many allowances were issued and prices were too low to motivate companies to invest in reductions. But now prices are approaching the levels recommended by economists.
According to the High Level Commission on Carbon Prices (Nicholas Stern et al, 2017) the price consistent with achieving the Paris temperature target is at least €35 per ton CO2e in 2020 and should be €45-90 per ton by 2030.
The graph below shows EU ETS prices since January 2015. In the last 18 months the price has tripled, because of reforms pushed through by countries including Sweden. At the same time the total emissions reported by the participating companies has decreased by 3.9%. This is just what we want to see: in this case rising prices are good news for all of us.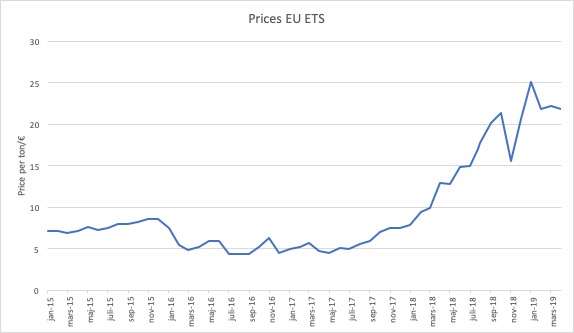 Facebook
Linkedin
Twitter