Facebook
2018-09-27
Men vad händer här? Jo vi laddar inför Office Fair på Münchenbryggeriet! To be continued.
Läs mer
Twitter
2019-07-04
@olofborn @GroningLotta På @zeromission_ är vi tydligt med våra kunder: man ska inte klimatkompensera och försätter…
https://t.co/DOJLENdEB8
Läs mer
Pressmeddelande
- Vi har valt att arbeta med ZeroMission och att klimatkompensera via projekt som är Plan Vivo-certifierade för att vi vill vara säkra på att investeringen ger reell effekt på klimatet. Vår satsning på klimatkompensation ger både sociala och miljömässiga nyttor lokalt, samtidigt som vi vet att trädplantering och bevarande av regnskog stabiliserar jordens klimat, säger Emmy Tollin, hållbarhetsutvecklare på GodEl.
Läs mer
Arkiv efter skribent
Arkiv efter månad
2017-06-22
Farmers' markets a way of life on Vanuatu
Farmers' markets have a romantic image for us. As an alternative to buying produce from the super-market, farmers' markets offer a greater range of products and a closer connection to producers. For us farmers' markets are new ways of shopping, part of a trend towards sustainable consumption. The farmers come into town once a week in the summer  and we stroll along to take a look, perhaps buy one or two items.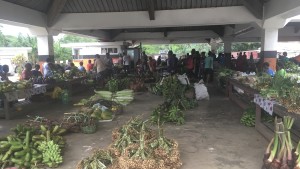 But on Vanuatu, where I recenty visited a Plan Vivo project, the vast majority of the population are subsistence farmers for whom farmers' markets are a way of life. There's nothing romantic about these markets.
On the island of Santo Espiritu, where the Plan Vivo REDD project is located, women travel from the villages to bring their excess produce to market in Luganville.
The Luganville market takes place in a simple, open structure. The women stay, even over several nights, with small children in tow, until their produce is sold.  The cash income is used for paying school fees, buying food and other goods.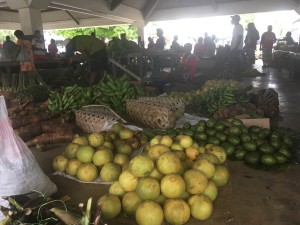 The Luganville farmers' market is open 7 am to 7 pm Monday to Friday and 7 am to 2 pm on Saturdays. The women pay 300 VT per table per day (about 25 kr). But their travel to the market probably costs 10 times as much, and each visit to the on-site toilet costs 30 Vt.
In the pictures you can see ground nuts, bananas, yams, taro, potatoes, citrus fruits, avocadoes, coconuts and the baskets woven from palm leaves which are used for transporting the produce. New baskets are made for each journey to market.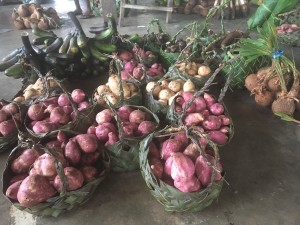 Facebook
Linkedin
Twitter