Facebook
2018-09-27
Men vad händer här? Jo vi laddar inför Office Fair på Münchenbryggeriet! To be continued.
Läs mer
Twitter
2019-12-10
Så här ser kriterierna för #klimatkompensation ut för CORSIA- flygbranschens globala marknadsbaserade styrmedel som…
https://t.co/2NlievdJqp
Läs mer
Pressmeddelande
- Det är spännande och utmanande att byta från en stor koncern till det familjära och hemtrevliga bolag som ZeroMission är. Jag ser fram emot att få lära mer om klimatkompensation och om hur våra kunder arbetar med frågan samtidigt som jag hoppas att jag kan tillföra mycket utifrån mina tidigare erfarenheter, säger Anna Wenell.
Läs mer
Arkiv efter skribent
Arkiv efter månad
2018-12-08
Greetings from the COP24 in Katowice
Vi har fått en uppdatering från COP24 av vår samarbetspartner Emmy Primadona från WARSI  WARSI är projektutvecklare för ett av våra REDD + projekt i Indonesien.
The Paris Agreement (PA) has been successfully adopted by 196 countries, but work on the technical details of how the agreement will operate was postponed until COP 24. The details and countries' obligations will be agreed in the PAWP (Paris Agreement Work Program) and written into the Paris Rulebook.
The three years since the Paris Agreement was signed have flown by but the negotiations on the Paris Rulebook are very slow and there are a number of hurdles to overcome:
the texts are very long: the compilation PAWP after the Bangkok Conference in September was 307 pages long
there are political disagreements between developed and developing countries on how the Paris Agreement will operate
linkages and cross-cutting issues across all PAWP areas: progress in one area is often dependent on the progress in another.
The Agenda of COP 24 is to agree on a solid and robust Paris Rulebook.
Even if it's not possible to finish the Rulebook during COP 24, all countries should at least agree on the fundamental principles and decide the roadmap for finalizing the details.
As a member of organization of Climate, Land, Ambition, and Rights Alliance (CLARA), WARSI is looking forward to working with parties in Katowice to promote rights-based, people-centred and ecosystem-centred climate action. Personally I'm following discussions about the scope of NDCs (Nationally Determined Contributions), the Transparency framework, market and non-market mechanisms and financing particularly closely.
In the context of Indonesia, WARSI wants to secure land tenure for communities' land tenure as a central part of the strategy for forest, including providing information on measures to respect and promote community rights. In addition, technical and financial support should be provided to incentivize local initiatives to protect and manage forests.
I also want to see the government moratorium on new licenses for deforestation of primary forest strengthened. And this should be followed by a review of extractive licenses which conflict with local communities and indigenous people, as well as promotion of forest restoration in peat and and other degraded forest areas in Indonesia.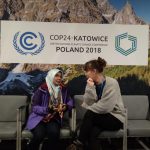 Facebook
Linkedin
Twitter