Facebook
2018-09-27
Men vad händer här? Jo vi laddar inför Office Fair på Münchenbryggeriet! To be continued.
Läs mer
Twitter
2019-07-04
@olofborn @GroningLotta På @zeromission_ är vi tydligt med våra kunder: man ska inte klimatkompensera och försätter…
https://t.co/DOJLENdEB8
Läs mer
Pressmeddelande
- Vi har valt att arbeta med ZeroMission och att klimatkompensera via projekt som är Plan Vivo-certifierade för att vi vill vara säkra på att investeringen ger reell effekt på klimatet. Vår satsning på klimatkompensation ger både sociala och miljömässiga nyttor lokalt, samtidigt som vi vet att trädplantering och bevarande av regnskog stabiliserar jordens klimat, säger Emmy Tollin, hållbarhetsutvecklare på GodEl.
Läs mer
Arkiv efter skribent
Arkiv efter månad
2017-10-25
Klimatkompenserar svenska kommuner?
Kort svar – nej.
Short answer – no.
Quite a number of Swedish municipalities say they "klimatkompenserar" (in English – carbon offset) eg Linköping, Lund, Region Skåne, Växsjö, Helsingborg. But we've been looking at what they're actually doing and we've found that the municipalities are not following accepted definitions of carbon offsetting (eg according to ISO 14021).
In fact the municipalities have been ahead of a trend amongst companies worldwide: internal carbon pricing.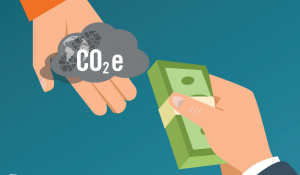 There are different models for use of carbon pricing in organisations. The model being used by Swedish municipalities has two steps: firstly setting and collecting internal carbon fees, then using this money to invest in emission reduction projects. In companies internal carbon fees are sometimes also used to buy carbon offsets (eg Disney buys forest offsets).
A recent report by the Center for Climate and Energy Solutions found that 20% of companies reporting to CDP in 2016 have an internal carbon price now or plan to have one within the next two years.
Is carbon pricing a good thing to do? Yes, absolutely. It's in line with calls from economists for universal carbon pricing. But it's not carbon offsetting, which has to be outside of an organisation's boundaries and additional to the reduction pathways on which we're already embarked.
We applaud the municipalities' actions but hope that they will communicate more accurately about their emission reduction mechanisms in future.
Facebook
Linkedin
Twitter