Facebook
2018-09-27
Men vad händer här? Jo vi laddar inför Office Fair på Münchenbryggeriet! To be continued.
Läs mer
Twitter
2019-07-04
@olofborn @GroningLotta På @zeromission_ är vi tydligt med våra kunder: man ska inte klimatkompensera och försätter…
https://t.co/DOJLENdEB8
Läs mer
Pressmeddelande
- Vi har valt att arbeta med ZeroMission och att klimatkompensera via projekt som är Plan Vivo-certifierade för att vi vill vara säkra på att investeringen ger reell effekt på klimatet. Vår satsning på klimatkompensation ger både sociala och miljömässiga nyttor lokalt, samtidigt som vi vet att trädplantering och bevarande av regnskog stabiliserar jordens klimat, säger Emmy Tollin, hållbarhetsutvecklare på GodEl.
Läs mer
Arkiv efter skribent
Arkiv efter månad
2017-09-18
Monitoring co-benefits in a Plan Vivo project
Carbon offsetting standards and projects are moving towards more measurement and reporting of "co-benefits". Co-benefits are positive impacts on the local people and ecosystems that are created by the project, over and above the carbon benefit.
We work primarily with the Plan Vivo standard under which co-benefits have been monitored and verified for many years. Every Plan Vivo project has a process in place for monitoring Ecosystems impact, Community impact and Biodiversity impact. Other carbon offset standards such as the Gold Standard are now beginning to catch up.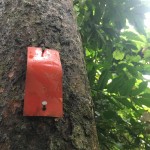 I recently visited two Plan Vivo projects within the Nakau REDD programme on Fiji and Vanuatu.  In the protected forest we saw labels marking trees that are regularly monitored, as in this photo.
But I was also impressed by the number of other parameters being monitored, for instance the following Community Impacts:

– collection of food from the forest in traditional ways
– income from selling own-grown food
– availability of water
– access to education
– income
– hours spent cooking, growing food, resting
– engagement of young adults in running the project.

The baseline measurements for all these parameters were done by social survey during the development of the project and the first third party monitoring will take place in 2019.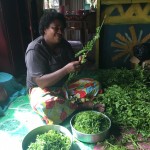 During our visit we saw evidence for two of these impacts. We took part in traditional collection of food from the forest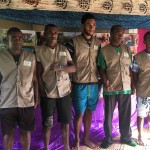 and we presented new jackets to the team of young rangers.
So while our customers buy "klimatkompensation" the Plan Vivo projects are building an evidence base of many other impacts. This kind of evidence should be expected from all carbon offset projects in the future.
Facebook
Linkedin
Twitter