High quality carbon offset projects contribute to the Sustainable Development Goals, in addition to mitigating climate change. Following International Women's Day last week we're featuring the benefits for women in Plan Vivo forestry projects. Today, the Communitree Project reforestry project in Nicaragua.
According to the FAO only 23% of land holders having formal rights to agricultural land in Nicaragua were women in 2011.
On the other hand Nicaragua has a progressive national policy which has led to substantial gender parity in elected offices around the country. However, in South America generally researchers have found that formal gender parity doesn't necessarily lead to empowerment of women. And just as in the Mexico project, featured in our blog last week, the Plan Vivo project in Nicaragua is working with a number of approaches, but not directly with changing land title.
Our contact person at the Communitree project has commented
"Gender in development projects is a fascinating topic with many deeply rooted beliefs. One particular challenge is that most land title in Nicaragua is in the man's name. Since changing formal land tenure is incredibly difficult we focus on other areas in which we can have an impact."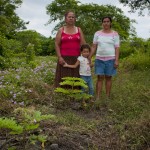 In the Communitree project, the family is treated as the decision-making unit in relation to the project, rather than the owner of the land title. So women are involved in project-related decision-making as much as possible, even if their names are not on the land title.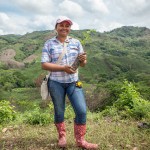 Secondly, the Communitree project has a target of 50% women in the staff and on the board of directors. Currently there are 4 women and 4 men on the Board of the organisation and on the ground 10 out of 16 staff are women. If anything, the project is exceeding its 50% target.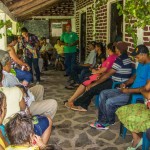 Finally, in community consultations for program design, the project specifically targets women and women's groups so that the opinions of people that might not usually speak up at community meetings can be taken into account.